A very large site we manage for a client was upgraded recently from the memcache module version 1.12 to version 1.13.
However, the result was less performance for this server that was humming alone happily with the older version.
The Munin graphs tell it all: look at the change at 12:00 noon.
Here is the CPU graph, showing double the CPU utilization on this sever.
(Ignore the 100% CPU utilization 10 pm, which is due to taxonomy browser scalability and solution.)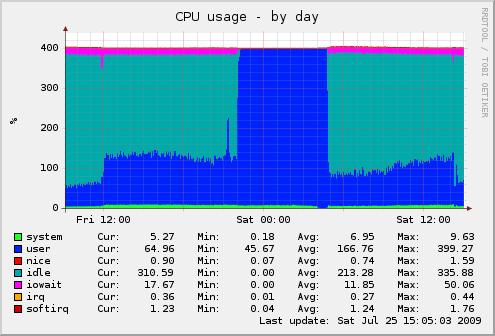 You can see how memcache's Munin graph for the cache_page bin: notice the spike in SET requests and New items. Also interesting is that the cache misses are less!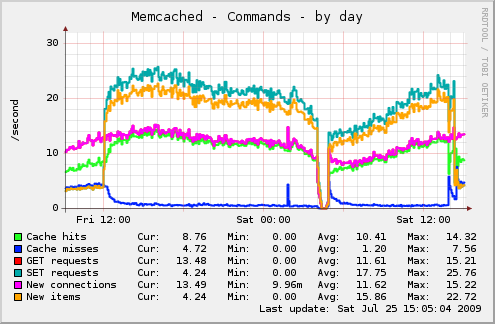 Of course, the load on MySQL climbed up too: instead of 0.4 to 0.5 MBps, it is now up to 1.2 MBps.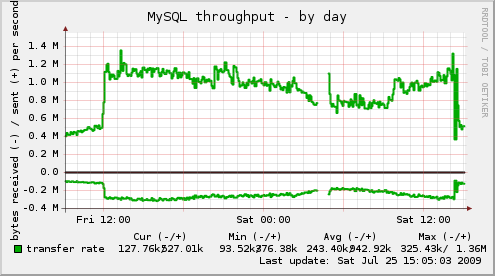 And the total number of queries jumps from 800 or so questions per second to 2000 or more.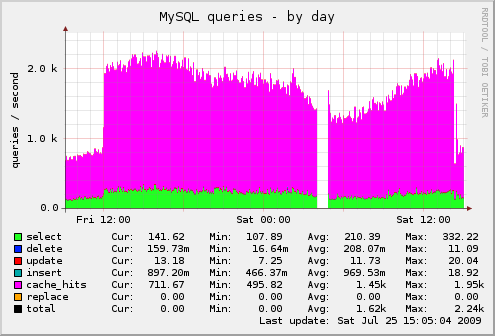 The configuration for both cases was identical, using the plain memcache.inc, and not the db variant, and 15 minutes for the cache lifetime:

$conf = array(
  'cache_inc' => './sites/all/modules/memcache/memcache.inc',

  'memcache_servers' => array(
    '127.0.0.1:11211' => 'page',
    '127.0.0.1:11212' => 'filter',
    '127.0.0.1:11213' => 'default',
  ),

  'memcache_bins' => array(
    'cache_page'    => 'page',
    'cache_filter'  => 'filter',
    'cache'         => 'default',
    'cache_menu'    => 'default',
    'cache_block'   => 'default',
    'cache_form'    => 'default',
    'cache_content' => 'default',
    'cache_update'  => 'default',
    'cache_views'   => 'default',
  ),
);

The page bin has 384MB as a maximum for it, and normally will not use it all.
Reverting back the older version resolved this for the time being. See the end of the graphs, things are back to normal.
A patch for the changes from 1.2 to 1.3 is attached if it makes it easier for others to inspect them.
Have you seen something similar?
Update
Thanks to Jeremy's quick response, the issue is now fixed in 6.x-1.4-rc1.
The new version shows a positive trend on the server:
Here is the CPU graph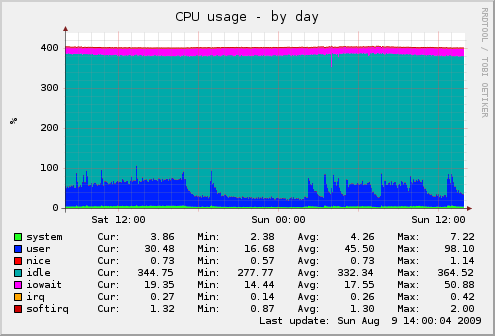 Here is the Load Average for the server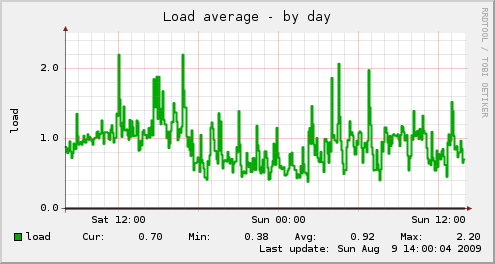 Here is the Memcache statistics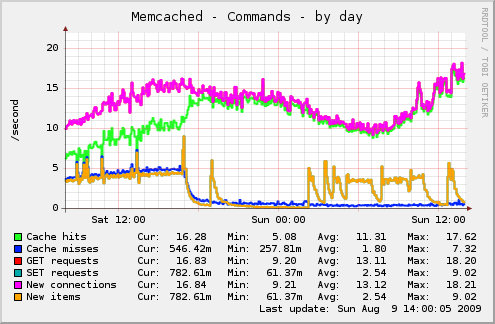 The MySQL queries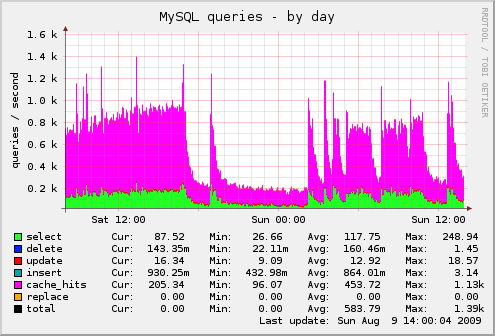 And MySQL bytes